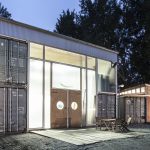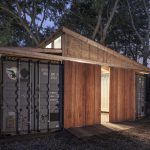 Die Bebauung der Peute eins ist inspiriert von einem Containerdorf im Londoner Stadtteil Brixton nach Plänen des Architekten Carl Turner.
Die Vorteile der Container-Architektur
bodenständige und ehrliche Lösung
dauerhaft moderate Gebäudekosten: großes und günstiges Angebot gebrauchter Container, gerade in Hamburg
modularer und entsprechend vielseitiger Aufbau durch 2,45 m Standardbreite
von Lastwagen, Waggons oder Schiffen bewährt sichere Verbindung der Elemente
enorme Festigkeit: große Traglasten bei Stapelung auf Schiffen, daher statisch unbedenklich
einfache Anpassung zum Vergrößern oder Verkleinern der Räumlichkeiten
interessante Gestaltungsmöglichkeiten durch die Kombination mehrerer Container, Herausschneiden der Seitenwände bis hin zur Überdachung
bis zu sieben Container sind stapelbar. Die Bebauuung der Peute eins wird jedoch höchstens zweigeschossig
korrosionssicher durch speziellen, nicht durchrostenden Corteen Stahl
bewährt einbruchssichere Verriegelung der Türen
20 und 40 Fuß Längen: 6,10 und 12,20 m
zwei Höhen: 2,60 m (Standard) und 2,75 m (High Cube)
individuelle Farbwahl der Container: wie gekauft im Logistik-/Reederlook belassen oder  neu gestrichen
vergleichsweise kurzer Vorlauf für Planung und Bau (die behördlichen Genehmigungsfristen sind wie überall üblich )
modulare Beistellmöglichkeit für 10 Fuß Container für die Heizung, spezielle Zwecke oder temporäre Lagerflächen
Ihre Vorteile auf der Peute eins
Sie müssen sich um nichts kümmern, beziehen die Räumlichkeiten schlüsselfertig/besenrein und konzentrieren sich auf Ihre eigentliche Tätigkeit
Sie nutzen unsere Erfahrung bei der Planung und Bau
wir haben den Gabelstapler und Hubwagen zum Bewegen und Ausbau Ihrer Container
alle Randfragen wie sanitäre Einrichtung, Heizung, Stromversorgung und Einhalten der Vorschriften sind geklärt
2015/16
errichteten wir für unseren eigenen Betrieb ein zweistöckiges Gebäude aus U-förmig aufgestellten Containern. Für die Seiten nahmen wir 40 Fuß Container, für die Rückwand 20-Füßer. Wir entschieden uns für eine Mischbauweise aus gebrauchten Containern, einer selbsttragenden Holzkonstruktion mit Trapezblechen über einer Wärmedämmung für das Dach und vorne eine transparente Front.
Die Container sind innen aufgeschnitten und umschließen die Halle galerieartig. Zusätzliche Stahlträger ersetzen die heraus genommenen Seiten und sichern die Statik der Konstruktion.
Die Halle ist 11 m breit, 12 m tief und 7 m hoch. Ebenerdig gibt es in den Containern Platz für Werkbänke, Ablagen für zahlreichen Kleinteile laufender Projekte, für Maschinen oder die Boote.
Die erste Etage bietet Platz für Regale und Lager, eine Spritzkabine und einen Trockenraum für lackierte Teile. Ein 1 t Hebezug hilft beim Anheben schwerer Motoren und Drehen der Boote.
Die Front aus transparenten Steg-Doppelplatten läßt Tageslicht in die Räumlichkeiten. Besucher, Boote, die Hebebühne oder unser 5 t Gabelstapler gelangen durch das Tor in die Werkstatt.[:en]
The development of Peute eins has been inspired by a container village in Brixton, a district of London, designed by architect Carl Turner.
Advantages of Container Architecture
an honest, down-to-earth solution
permanently moderate building costs: wide and low-price range for used containers, especially in Hamburg
modular and therefore versatile construction because of 2.45 m standard width
tried and tested on trucks, freight wagons or ships, secure joining of units
enormous stability: huge load capacity for stacking on ships and therefore structurally safe
easy modification for either up- or downsizing of the premises
interesting scope for design through combination of different containers, cutting out side panels or roofing
up to seven containers are stackable, the construction of Peute eins however will be two-storied at most
corrosion-proof due to special corrosion-resistant CORTEN steel
tested and tried burglar-proof door locking mechanism
20 and 40 ft. lengths: 6.10 m and 12.20 m
two heights: 2.60 m (standard) and 2.76 (high cube)
customized colour selection for the containers: kept in the logistics/shipping look as purchased, or repainted
relatively short lead time for planning and building (building-authority approval times are as usual)
modular additions for 10 ft. containers are possible for either heating, specific purposes or temporary storage space
 Your Advantages on Peute eins
you don't have to arrange anything yourself, you can move into the facilities ready to use and just focus on your work
you can make use of our planning and building experience
we have got the forklift and the lift truck for moving and assembling your containers
all the side issues such as sanitary facilities, heating, electric power supply as well as compliance with regulations are dealt with
In 2015/16
we constructed a U-shaped two-storey building made from containers for our own company. For the side walls we used 40 ft. containers, for the back wall 20 ft. containers. We decided on a mixed building structure with used containers, a self-supporting timber construction including trapezoidal sheet metal over thermal insulation for the roof, and a transparent front.
The containers, cut open inside, surround the hall like a gallery. Additional steel beams compensate for the removed side panels, securing the statics of the construction.
The hall is 11 m in width, 12 m in depth and 7 m in height. The ground floor in the containers provides enough room for work benches, shelving for the numerous small parts of current projects, engines or boats.
The first floor provides space for shelving and storage, a spray booth and a drying room for varnished parts. A 1-ton hoist helps to move heavy engines and to turn the boats.
The front, made of transparent double-skin sheets, brings natural daylight into the facilities. Visitors, boats, the lifting platform or our 5-ton forklift can enter the workshop through the gate.[:]