[:de]Die Peute wurde in den 1870er Jahren mit dem Elbdurchstich vom gegenüberliegenden Kaltehofe im Stadteil Rothenburgsort abgetrennt und so zur Insel an der Norderelbe. In der Mitte von  Hamburg gelegen, ist die Peute eines der ältesten Industriegebiete der Hansestadt. Seit den Zwanziger Jahren entstanden hier eine Druckerei, Kaffeerösterei und eine Waschmittel-Fabrik der gemeinwirtschaftlichen Großeinkaufs-Gesellschaft Deutscher Consumvereine. Die imposanten Backsteingebäude der GEG existieren heute noch. Sie befinden sich unter Denkmalschutz und werden unter anderem für kreative Nutzer hergerichtet.
1884 wurde von Wilhelm Neumann andernorts die gleichnamige Werft gegründet, die 1919 bis 1965 am Peuter Elbdeich, dem heutigen Standort der Peute eins, als Schiffswerft und Holzsägerei angesiedelt war. Hier wurden Binnenschiffe und Schuten (offene Kähne) bis tausend Tonnen Tragfähigkeit gebaut und repariert.
Der Peutehafen im Schutz der Landzunge bietet bis heute zahlreiche Schuten-Liegeplätze.
Später war hier die Firma Seacat Schmeding mit der Fertigung von Ankerketten beschäftigt. 2014 wurde die Peute eins am Ende der Halbinsel zwischen Norderelbe und Peutehafen, nach beharrlicher Suche der beiden Riva Restauratoren Jürgen Renken und seines Kollegen Alexander Mühle nach einem neuen, wasser- und hafennahen Standort für den Betrieb entdeckt. Renken restauriert seit 1999 in Hamburger Stadtteil Bahrenfeld Riva Boote.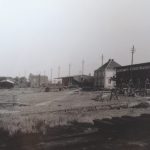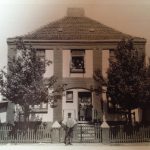 [:en]In the 1870s, the Peute was separated from the opposite Kaltehofe, a part of the urban district of Rothenburgsort, by an Elbe cut and thus became an island on the Norderelbe. Located at the centre of Hamburg, the Peute is one of the oldest industrial areas of the Hanseatic city. Since the 1920s, a printing press, a coffee roasting plant and a detergent plant for the public service Großeinkaufs-Gesellschaft Deutscher Consumvereine (Co-operative Wholesale Society for German Consumer Associations) were constructed on this site. The impressive brick buildings of the GEG still exist even today. They are now under a preservation order and are being refurbished for creative occupants, amongst others.
In 1884, Wilhelm Neumann established his shipyard of the same name elsewhere, which was then situated at the Peuter Elbdeich – today's location of Peute eins – as a shipyard and sawmill from 1919 to 1965. Here, river barges and open barges up to 1,000 tons load capacity were built and overhauled.
Protected by a promontory, the Peute harbour offers moorage for numerous open barges even today.
Later on, the Seacat Schmeding Company was engaged here in the manufacturing of anchor chains. In 2014, Peute eins, situated at the headland of the peninsula between Norderelbe and the Peute harbour, was discovered by the two Riva boat restorers, Jürgen Renken and his colleague Alexander Mühle, after a persistent search for a new business location close to the waterfront and the harbour. Since 1999, Renken has been restoring Riva boats in the Hamburg district of Bahrenfeld.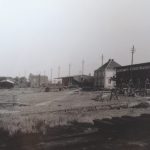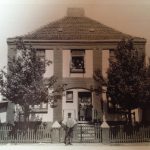 [:]